March 2019
| Mon | Tue | Wed | Thu | Fri | Sat | Sun |
| --- | --- | --- | --- | --- | --- | --- |
| | | | | 1 | 2 | 3 |
| 4 | 5 | 6 | 7 | 8 | 9 | 10 |
| 11 | 12 | 13 | 14 | 15 | 16 | 17 |
| 18 | 19 | 20 | 21 | 22 | 23 | 24 |
| 25 | 26 | 27 | 28 | 29 | 30 | 31 |
Calendar


Lost in the mists of the forgotten past, lays hidden a story of those who would not die, for the gods have chosen them to serve their specific goals. Little is known of the reason for which the gods chose such a path, but one is certain: of these immortal men, each was to kill all the others, for there could be only one.
Jeste, pogodili ste, ova kampanja će da bude na fazon franšize Gorštak (The Highlander)

Čak će i lokacija biti planeta Zemlja, geografski ali ne i istorijski ispravna. Period je 4-5 vek nove ere, krajnje turbulentno doba istorije gde retko koja država je trajala duže od 50 godina, tako da možemo biti kreativni.
Da vas podsetim da je krajnje malo verovatno da vaši likovi poznavaju geografiju u detalje.
Naša početna lokacija je:
Grad Naran

Velika zavala Tarim, zvana i Danhurija, rasprostire se svojim silovitim prostranstvom između velikih carstava istoka i zapada. Južno od nje se protežu Himalaji, planinski venac kakvom nema ravnog na svetu, a severno su nešto manje planine koje se isto protežu u dalj. Trgovački putevi dakle moraju prolaziti kroz Danhuriju, te su tu nastali i procvetali mnogi trgovački gradovi legendarnog bogatstva. No, ovo je zemlja nomada, pastira i lovaca, koji ne znaju za zidane kuće, i slobodni su poput razigranog vetra. A dovoljno je da se nađe neki harizmatični vojkovođa, pa da te silne konjanike i vrsne strelce povede u boj – na taj način su nestali svi veliki gradovi Karaške nizije.

Međutim, grad po imenu Naran se još drži, iako plaća danak čak petorici vojskovođa. No za gospodara ovog grada, čoveka po imenu Guntak, sav taj danak je još uvek sitnica naspram njegovih prihoda – silni karavani iz svih pravaca stižu u grad gotovo svaki dan. A i da ne plaća taj danak, grad bi teško iko mogao osvojiti; sagrađen na omanjem brdu, blizu kamenjara u goloj planini Rahti, Naran ima sad već tri reda zidina, a Guntak već planira da onih par kula na sadašnjem obodu grada, izvan zidina, isto poveže četvrtim redom zidina. Isto, grad ima duboke bunare i vrtnu četvrt unutar zidina, pa i da drže grad pod opsadom, mogao bi se dugo održati. Ali Guntak svejedno plaća taj danak, jer bez karavana samih, njegov grad bi bio tek lepa gomila kamenja – sigurnost puteva je zapravo ono za što on plaća danak, a ne sigurnost grada.

Guntak je inače tek treći vladar Narana od njegovog osnivanja. Grad je osnovao njegov otac O-Kal, ali to nije bila njegova izvorna namera. O-Kal je bio neimar kamenorezac, a Naran je bio manastir, namerno postavljen nasred nedođije. Poglavar manastira, monah po imenu Ku Fa, poslao je par monaha daleko na istok da mu nađu kamenorezca, kako bi sagradili zidine da se odbrane od nomada. Tako je tamo dospeo O-Kal, i kad je on video mesto gde se nalazi manastir, i uvideo kako to nije uopšte daleko izvan puteva karavana, napravio je dogovor sa monasima: sagradiće im on zidine, ali će sagraditi i karavanseraj. Tako je i bilo i kroz koju godinu pročulo se kako je taj manastir Naran mesto jako utvrđeno i kako ima lep karavanseraj, te su svi karavani hrlili u sigurnost tog mesta. Desetak godina kasnije, O-Kal je predao svoje mesto svom mlađem bratu koji se zvao Ung-Tok. Ung-Tok je kao mladić došao u Naran da se usavrši kao kamenorezac, ali došavši u ovu divljinu izučio se i kao ratnik. On je sebe proglasio za vladara grada Naran i uzeo sebi titulu Neimar-Kan, ali titula nije zaživela. Ceo svoj život zatim on je ratovao po Danhuriji, i konačno par godina posle njegove smrti, O-Kalov sin Guntak je uspeo da ugovori mir sa kanovima pet velikih plemena.

Tako je u pedeset godina Naran izrastao iz manastira u trgovački velegrad i tvrđavu. Kako se pročulo o gradu, i manastir je počeo da privlači monahe i verske vođe iz cele Danhurije, te sad Naran važi i za duhovni centar Karaške nizije. Samo nikad neće isti ljudi videti isto lice grada; trgovci će pričati o mesnoj pijaci i karavanseraju, monasi i hodočasnici o manastiru i hramovima, a vojnici o zidinama i plemenima. Ali svi će se oni pojaviti na glavnom trgu, gde stoji veliki putokaz, znamenitost grada – to je oniža kula, gde je iznutra na niskom stropu oslikana ogromna mapa cele Danhurije i šire okoline, a svuda okolo su postavljeni putokazi. Grad inače ima šest kapija, svaka osveštena drugom bogu-zaštitniku.
Zavala Tarim (gledajte samo prirodnu geografiju)
Tamo ste stigli putem Svilenog Puta
U zavali Tarim se nalazi pustinja Takla-Makan
i jezero Bosten
i Geopark
Yangan Shan
Metamorf





Posts

: 510


Join date

: 2010-03-15


Age

: 31


Location

: Temerin / PMF

Character sheet
Name: Mihalj
Race: Fizičar
Gender: Male


Immortal / Besmrtnik

(Monster Manual entry)

The Immortal is the chosen one of a deity, and has been freed from mortality. He can only die if his head parts from his shoulders, or if his body is completely destroyed. It is said that this is achieved by the severing of the karmic chains that bind the soul into the circle of life, death, and rebirth.

Creating an Immortal

"Immortal" is a template that can be added to any humanoid or monstrous humanoid creature (referred to hereafter as the "base creature"). The creature's type remains unchanged. It uses all the base creature's statistics and special abilities except as noted here.

Unchanged: Hit Dice, Speed, Attacks, Damage, Special Attacks, Saves, Abilities, Skills, Feats.

Special Qualities

The Immortal retains all the special qualities of the base creature, and attains the following:

Immortality (Ex): the Immortal is immune to the effects of ageing, and cannot be killed by disease, poison, drowning, or any other means but the following: the Immortal can only be killed by the severing of his neck from the body, or by amassed damage that destroys the body entirely (such as fire or acid). The Immortal gains this quality by the grace of any god or gods that have chosen him. Hence, said god may revoke this gift as they see fit – the Immortal himself has no means of parting with his immortality by his own choice. However, it is extremely rare for a god to chose a mortal for immortality and to then revoke the gift; said Immortal must have wronged against the god in the extreme.

When an Immortal has lost enough Hit Points to die as a mortal, he continues to lose Hit Points without actually dying; though he is unconscious, and any medical or magical inspection will confirm that he is dead in the medicinal sense of the word. Despite appearing dead, the Immortal regains the lost Hit Points normally, and is restored to health. This happens until the Hit Point loss amounts to massive damage (-50 HP). An Immortal with the Diehard feat can be conscious until reaching -20 HP.

Barren (Ex): the Immortal is unable to conceive children. Any children potentially conceived by the base creature before becoming an Immortal are unaffected by this quality. Also, if the entity were to be revoked its immortality, this quality would also be revoked – the Immortal would again be able to conceive children as a regular mortal. This quality is perfectly unrelated from the medical state of being naturally barren; the barrenness or infertility of the Immortal is a supernatural state and cannot be affected by any medicinal or magical means.

Possession of Souls (Ex):If an Immortal is killed, his soul remains in the material world. If the death resulted from a weapon, the soul is bound to the weapon that inflicted the final wound. If the Immortal was killed not by a weapon, but by the amassing of damage (say, by fire or acid), his soul is free to roam the material world. Such a creature, that can be treated as a Ghost, will automatically be bound to the weapon of any Immortal who succeeds a hit against him. If the Immortal is killed by a natural weapon, his soul is then bound to the body of the creature wielding the natural weapon.

Once in possession of the soul of an Immortal sealed into a weapon or otherwise, the Immortal can attempt to make use of it. The living Immortal trying to use the soul of an undead (Ghost-like) Immortal shall be termed the Possessor, and the Immortal whose soul is being utilised shall be termed the Possessee. Therefore, the Possessor can try to make use of the abilities of any Possessee whose soul (sealed in whatever item or onto his person) he physically possesses. This is done by an opposite Will Save; for the check to take place, the Possessor must be in physical contact with the item containing the Possessee. The Possessor has a starting advantage of 5 points. The attitude of the Possessee weighs into the check: a hostile Possessee will add 5 points to the check's DC, an unfriendly one 2, an indifferent one will not affect the DC, a friendly will lover it by 2, and a helpful by 5 points.

The abilities that the Possessor can use include the memory and mental faculty of the Possessee (on a successful check, the Possessor can use the Possessee's score on any skill check), the ability to cast spells (if the spell requires preparation, it needs to be prepared also by means of a check), the use of a special ability (one use of the ability per check), and the ability to understand and speak languages (a successful check enables the Possessor to use one language for one day). The Possessor cannot use purely the base abilities of the Possessee – those are intricately connected with the body and soul of the Possessee. The limit is equal to the result of the Possessor's character level check (roll 1d20 and add the Possessor's character level). The result is the cumulative number of times the Possessor may attempt checks with any number of Possessees on the given day.

Immortal Awareness (Ex): An Immortal becomes aware of other Immortals if they approach within a given radius. Within 100 feet an Immortal is unerringly aware of the presence and location of other Immortals, if there is line of sight between them. If there is no line of sight, there is a certain sense of direction. For a radius of up to one mile, there is only a sense of direction. For distances beyond one mile, an Immortal may try a Wisdom Check to determine a direction in which another Immortal may be found; the DC is 10 + 1 for each mile of distance to the nearest other Immortal. This ability is independent of the natural senses of the Immortal and of any magical effects. An Immortal is also able to detect Immortals sealed in weapons and Ghost-like Immortals, although their presence is not felt so strongly. In this case, the Immortal is aware of any such Immortals within 30 feet, has a sense of direction within 100 feet, and the DC to determine the direction towards such an Immortal beyond 100 feet is 10 + 1 for every 20 feet.
Last edited by Stranac on Sun Aug 11, 2013 1:22 pm; edited 3 times in total (Reason for editing : Update again...)
Metamorf





Posts

: 510


Join date

: 2010-03-15


Age

: 31


Location

: Temerin / PMF

Character sheet
Name: Mihalj
Race: Fizičar
Gender: Male


Rekli smo da postoji
Common jezik
, tako da možete svi da se sporazumevate. No, to je neki vehikularni jezik, sporazumevate se, ali objašnjavate i rukom i nogom. Za valjano sporazumevanje, postoje razni jezici, pre svega oni rasni (ovaj
Common
bi zapravo bio rasni jezik ljudi, no manje bitno). Dakle sredio sam vam listu jezika koje možete da znate, evo su u abecednom redosledu, ima ih sveukupno 24, i svaki ima svoje jedinstveno pismo:
*Austronezijski (Malajski, Filipino, i tako to)
*Berberski (Tuareg, Tamazig, i tako to)
*Čadski (Hausa i ostalo)
*Dravidski (Tamilski, Telugu, Malajalam i to)
*Egipatski
*Germanski (svi jezici Germana, Nordijaca, i kasnijih Angla)
*Grčko-Latinski (da li se među narodom Imperije više govorio Latinski ili Grčki ostaje pitanje, ali sporazumevali se jesu)
*Indijski (Sanskrit, Hindi, Pali, Pandžabi, Bengalski, itd.)
*Japanski (uključujući i Ainu i Ryukyu)
*Keltski (Galski, Keltiberski, Britanski i to)
*Kineski (Mandarinski, Jue, Vu, Min, Hakka, Gan, Ping, Kšiang, Džin, Hui...)
*Koisan ("Bušmani", "Pigmejci", Hotentoti)
*Korejski
*Kušitski
*Mongolski (Burjatski, Ojratski)
*Niger-Kongo (Svahili, Dogon, Mande, Joruba, Igbo, Fula, Šona, Zulu...)
*Persijski (i Paštu i Kurdski)
*Semitski (Arapski, Hebrejski, Amhara)
*Slavenski i Baltski (svi jezici Slavena i Balta)
*Tai-Kadai (Tajlandski, Laoski, Žuang-Tai jezici sa juga Kine)
*Tibetanski (Džongka, Šerpa, Burmanski)
*Tunguski (Mandžu i Evenki)
*Turski (nisu Osmanlije, nego razni centralnoazijski Turci: Oguz, Kipčak, Ujgurski)
*Ugro-Finski (Finski, Estonski, Laponski, Mordvinski, Ugarski)
Dakle sem maternjeg, možete znati onoliko jezika, koliko vam iznosi Intelligence modifier. A evo vam i mapa rasprostranjenosti ovih jezika: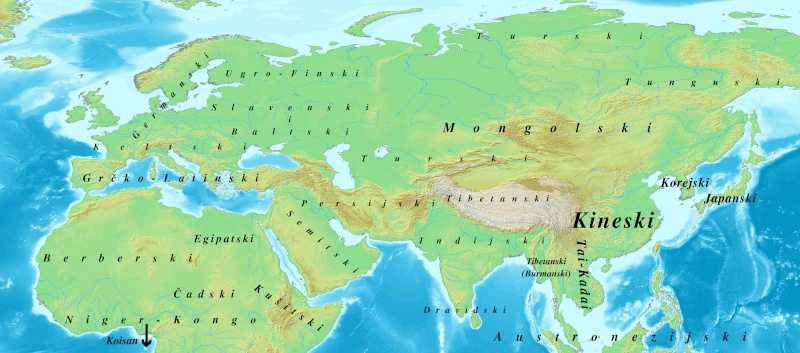 Metamorf





Posts

: 510


Join date

: 2010-03-15


Age

: 31


Location

: Temerin / PMF

Character sheet
Name: Mihalj
Race: Fizičar
Gender: Male


Pošto mi spominjete Rusiju u Aziji, evo kačim vam mapu expanzije ruske na istok - počinje sa 16-im vekom, a mi smo u četvrtom...
Metamorf





Posts

: 510


Join date

: 2010-03-15


Age

: 31


Location

: Temerin / PMF

Character sheet
Name: Mihalj
Race: Fizičar
Gender: Male


Pošto sad već počinje da bude malo komlikovanija priča, zapisao sam šta se dosad izdogađalo - ako se vi drugačije sećate, recite.
This is the story of those who would not die; of men born onto this world as mortals, but given a rare gift and a difficult task from the gods. I tell the story as it was told to me by those who survived these wondrous events; to those who would call me a liar, I say unto them: nemo me impune lacessit!

Chapter I

2013.07.12., Friday

Meeting at Valhala (Kosančić Ivana 19, Novi Sad), introduction to the setting, and for some to the game of D&D, creation of characters.

Roles:

Lazar Čovs as

Rothen Al' Carpathia

, half-elf paladin from the Carpathians, the Immortal

David Živanović as

Oogg

, half-orc barbarian from Africa

Petar Kalmar as

Bjorn Olafsson

, human bard from the Nordic Lands

Marina Anđelković as

Liliuth Vandiir

, elf druid from Eire

Filip Nikolić as

Zeronnix

, hobbit rogue from the unknown lands of northern Asia

They all arrived at the fort of Naran at the edge of Tibet, overlooking the Taklamakan Desert. Oogg and Rothen were drawn together by Oogg's evil voodoo doll, that Rothen swiftly destroyed with fire. The only reason the two didn't strangle each other was a minor spell Bjorn cast on them; they instead started laughing. Oogg also made a ruckus at the local inn, but was convinced by a number of guards to settle down. All are bought drinks by the bitter old bartender (special guest star Mikes Géza). All were later invited to a dinner by a wealthy Chinese merchant, who in fact invited only Liliuth, thinking she was of high noble birth, but she insisted on the other guests. After the dinner ended, Zeronnix stayed back to speak with the merchant – he had actually stolen a small golden plate from within the merchant's clothing and had now returned it to him. The merchant, once the notion of being so rudely robbed had passed him, decided to seize the opportunity and instructed the hobbit to go to the city of Ka Fang, China, and report to his nephew. He would have jobs for Zeronnix that utilise his talents, the first one thousand gold pieces of Zeronnix's profits he would forego; and if he ever turns up in China without delivering on his promise, his head will be served on a plate to the very wealthy and influential merchant. Meanwhile, Bjorn attempts to entertain the monks at the monastery (with little success), while the others explore the monastery building with special attention to the library.

Chapter II

2013.07.18., Thursday, at Valhala

Two more players join the game.

Roles:

Živko Raičević as

Ni Sung

, human monk from Tibet

Srđan Trifunović as

Lenelay Mené

, elf ranger from Iceland

(Filip and Marina were absent)

Ni and Bjorn meet, and as Bjorn has always wanted to see dragons, Ni tells him about Bhutan, the Land of the Thunder Dragon, and they agree to go there together. Lenelay has been in the employ of Rothen since they were both in the Empire of Rome. Rothen is a knight of the Order of the Dragon, and the Order will pay for Lenelay's services; however, the nearest outpost of the Order is in Uruk, Persia.

Then a caravan arrives to Naran – Mahašrivenda, Prince of Naru, is arriving with his twenty soldiers and a number of merchants carrying various types of cloth. He and Rothen discover each other as Immortals. After words, Mahašrivenda challenges Rothen and his entire company to a "duel"; the prince finds Rothen not enough of a challenge on his own, and says such a battle would be more enjoyable for him. They leave town the next day, and have the showdown on the edge of the desert, at a large crooked cliff next to a brook flowing through the sands. Here they kill Mahašrivenda (who does enjoy the battle a lot more than what would be healthy), but it is not Rothen to finish him off, for he is badly wounded and falls unconscious, and so does Bjorn. It is Lenelay who deals the finishing blow with his dagger, and Ni decapitates the seemingly dead and certainly gutted prince. Then in a momentary thunderstorm, the soul of Mahašrivenda is transferred to his own greatsword with which the monk had severed his head from his body.

Chapter III

2013.07.28., Sunday, at Valhala

(David and Srđan were absent)

Having returned to Naran and rested there, the group begin their journey to the east, to China and the town of Ka Fang, where the hobbit must tend to his duties. The rest of the party are wandering aimlessly, and don't mind having to venture all the way to China, and across the forbidding desert. On the way, Bjorn discovers some magical sand, but has no idea as to its function. As they travel, they are attacked by a trio of bandits, hiding next the road in a bush, and ontop camels. Bjorn decides to talk with them for some reason, and is hurt badly by a number of arrows. The party kill the bandits and take their camels and other belongings, continuing their voyage on camelback.

Chapter IV

2013.08.02., Saturday, at Valhala

(David and Srđan were absent)

The party continue travelling across the Taklamakan Desert. On their way, they meet an aging man, a Chinese tailor named Lung Kai. The tailor was travelling alone on camelback, and had fallen unconscious from fatigue; had they not found him and nursed him back to good health, he would have surely found his end in the desert. He tells them the story why he is here; he is on his way to try and keep his nephew from doing great evil. Some months earlier they, the Lung family, all had visions sent by an ancestor of theirs. It was Lung Šu, the necromancer, that horrific evildoer who was cast out of the family nearly two centuries ago; Kai's grandfather's grandfather. Of the large family, it was only his nephew, Lung Lu, who answered the call. And Šu called him to the Taklamakan, to a forgotten necropolis, where they would do unspeakable evil. Thus Kai set out to stop his nephew, and now has found this party of do-gooders to help him. The party agrees to go with Kai, and the old man starts guiding them across the desert, towards the necropolis he had seen in the vision.

On their way they are slowed by a three-day sandstorm that they spend inside a tent, a big one they made by combining all their tents into one. Continuing their travels, going north through the Taklamakan, they are attacked by bandits, this time eight of them. Eventually they kill two, and the others flee; the party gathers more belongings.

Continuing their journey, they become aware of a flock of ravens, rather unusual so deep in the desert. Bjorn decides to inspect whether or not the birds are magical, and one of them was just casting a spell; a spell of necromancy on the human skull it was pecking at in the sand. Rothen also determines that the bird is purely evil. Several attacks are attempted at the bird itself, but to no result, it flies away. The party is left to fend off the attacks of twelve skeletons, twelve human remains animated by the unholy powers of darkness. Eventually, they prove victorious, but Rothen is massacred; were he a mortal man, death would have had him.
Metamorf





Posts

: 510


Join date

: 2010-03-15


Age

: 31


Location

: Temerin / PMF

Character sheet
Name: Mihalj
Race: Fizičar
Gender: Male


De Immortalis
Chapter V
2013.08.10., Saturday, at Valhala
A new player joins the game.
Roles:
Slobodan Dan as Montaokan (alias Tau-Salai), human fighter/cleric from Gantonk
(David and Srđan were absent)

The party rest after the incident with the skeletons. Meanwhile, Montaokan arrives at Naran. He was providing protection to a caravan that travelled there from China. Their arrival coincided with a local holy day, the Enlightening Reading of the Sacred Scroll of the Magnificent Wisdom of the Immaculate Teachings of His Exalted Holiness the Supreme Sage. Montaokan took part in the ceremonies and had a spiritual experience, but as following on the spiritual path thus presented to him would have guided him away from the way of Lantar, his deity, he chose to neglect it. The people at Naran told him many stories of the death of Mahašrivenda and the odd group that was responsible for it. In these descriptions he discovered the holy symbol of Lantar, as worn by a knight on his leather armour. This was Rothen, and now Montaokan had decided to seek him out. To this end he left Naran to the east, for he had heard that the party had left that way on the road for Ka Fang, China.
After he was nursed back to some degree of health, Rothen set fire to the corrupted remains of the vile and unholy skeletons. Among the belongings of the undead was a mighty blade, a scimitar magically infused with pure evil, a weapon meant to destroy the very essence of goodness. Rothen was quick to destroy it. Liliuth's leopard was frightened by this and attacked the knight, but was quickly calmed by her master, and Rothen thought little of the incident. Then, however, Zeronnix stabbed Rothen in the back, making use of the distraction caused by the nervous animal. The hobbit was greatly disturbed by the loss of profits caused by the destruction of the magical blade, worth a fortune to the right buyer. Then a lengthy fight ensued, comprising mostly of Rothen and Zeronnix grappling. Liliuth tried a few things to pacify the two, including summoning water from the sky ontop of the wrestling foes, and hiding Zeronnix in a similarly conjured fog. Eventually, Rothen and Zeronnix ended their hostilities, but their relations are far from perfect.
In the following few days, both the party and Montaokan wandered the bleak desolation of the Taklamakan Desert, surviving another sandstorm, although a short one at a bit over a day in duration. Both Rothen and Montaokan were sent divine, albeit quite vague visions from Lantar, who helped them to find each other. Eventually they did meet and after words, Montaokan joined the party and they turned back towards the north to find this cryptic necropolis that Lung Kai was leading them to. Montaokan and Rothen exchanged armour, as it is in Montaokan's altruistic nature to give to the needy.
As they continued their way through the sands, Liliuth was the first to discover a pair of ogres approaching them from the north. To little surprise, the ogres charged right into the party, causing them great harm, but eventually falling prone in face of the party's combined battle prowess. Montaokan takes a moment to give the brutes a ceremonial burial, after Zeronnix and Bjorn had looted the corpses.
Metamorf





Posts

: 510


Join date

: 2010-03-15


Age

: 31


Location

: Temerin / PMF

Character sheet
Name: Mihalj
Race: Fizičar
Gender: Male


De ImmortalisChapter VI

2013.08.15., Thursday, at Valhala

Special guest star: Tanja filling in for the absent Marina as

Liliuth

(Slobodan and Srđan were also absent)

On the dead ogres, the party had found a map of the caravan trails across the desert; what was special about it was the signature stamp of none other that Lung Lu – he had sent the ogres against the party. Leaving behind the corpses, they continued their journey north. They set up camp for the night. In the early morning, Oogg, who was on guard duty, noticed something in the distance. In the direction from whence they came, there was a large flock of ravens, and two rather large creatures he couldn't quite make out. He decided to wake everyone so they would check the thing out, so he woke the magic users, too. But alas! Having been woken early, neither Bjorn nor Liliuth had replenished their magical abilities, and were left with only that magic they had neglected to make use of the day prior. And so, the party started on their way to explore the oddity in the south.

On the way, they split up into two groups, one faster and one slower. As such, Oogg and Ni were the first to arrive on the scene, finding the same ogres they had fought only yesterday. Now they were corpses animated by the vile powers of darkness and guided by the unholy gluttony of undeath. Before they were risen from the dead, the ravens had eaten their eyes, leaving great gaping holes in their heads, dropping with blood and ooze.

Oogg charged at one of the two undead brutes, chopping at it with his oversized axe. Ni took a bit more delicate approach, dealing damage with his two deadly hands. Soon, Rothen arrived and started chopping at the unholy monsters with his greatsword and evoking the power of his god Lantar to destroy them. Liliuth, Zeronnix, and Bjorn all arrived eventually; it was Liliuth who saved Oogg's life when he fell to a horrendous strike of one of the ogre zombies.

Rothen did bring one of the brutes down, but he too soon fell, being horribly massacred by the viciously muscular undead claws. The other zombie was battered from all sides, and eventually fell to one of Ni's incredibly strong punches. As the party was leaving to venture back to their tents, they vitnessed the flock of ravens enjoying a feast most repulsing, their strong beaks chopping the rotting remains of the ogres, who were plenty unsanitary and disgusting in life, and were not made any more appealing by either death or undeath.

The rest of the day all had spent with resting and nursing the wounded. While being in a state that is practically death, Rothen had a vision. He saw the desert, and it's scorching sun now turned to the heart of darkness, emanating the deepest and darkest night onto the infinite sands. To the east was the vastness of the Empire of China, and in this land all that lived was dead, for they now all served a lord who was Death itself. Has Rothen found the great evil he was searching for, the one he had came so far to the east to find, the one that was foretold to him by the seers of his Order?

As they continued their journey, a few days later the hobbit noticed a caravan in the hazy distance; something none had expected to find so deep into the desert. Taking them into pursuit, eventually they came close enough to discover it to be a band of these Central-Asian Turks, much alike to the bandits they had encountered earlier. And with the twenty-or-so Turks, there was a man in typical Chinese garb. As the party approached ever closer, at one point the Turks, who were moving away from them, changed direction to meet our band of adventurers. A bit later, the Turkish caravan separated, with ten of them charging towards the party, and the other ten and the Chinese person going the other way.

And so, seeing the ten Turkish bandits charging their way, the party charged to meet and fight them.

End of Book I
Metamorf





Posts

: 510


Join date

: 2010-03-15


Age

: 31


Location

: Temerin / PMF

Character sheet
Name: Mihalj
Race: Fizičar
Gender: Male



---
Permissions in this forum:
You
cannot
reply to topics in this forum